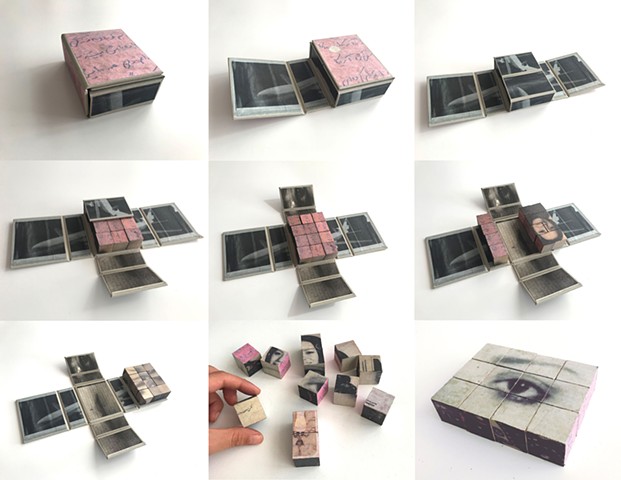 Art is my key to understanding the current underlying my identity and the world. In doing so, I derive much of my inspiration from my own life.
As an Iranian American growing up in post-1979 Tehran, I have experienced separation and uprooting in its different manifestations. In my practice I distort, and amplify these past events through material deconstruction and reconstruction.I am very interested in exploring the language of the material I use and blurring the lines between design, craft and fine art.
Image Description
The Family History Woodblock book is inspired by my toddler's play blocks. For the past decade I have been deconstructing and reconstructing materials and imagery relating to my family history through mining my late father's archive of letters, photos and printed matter.
The images printed on the six sides of the cubes reference documentation from the years 1979 to1981, when my family migrated back to Iran from the US until the time my father escaped Iran for fear of persecution due to his activism.
These blocks are housed inside a box which opens flat. The book cloth covering the box carries the print of the airplane ticket which I found in my late father's archive referencing his trip from Madrid to the US as the last leg of a long journey from Iran. When the box is closed the airplane hugs the blocks, keeping the events inside until the next time they unravel to tell a visual story of how a family was affected by larger political shifts.